Hope you are enjoying your summer. Just thought I'd take a minute and get caught up with everyone. We've been hard at work on the upcoming album Open Hearts Open Minds, which is almost ready to master. I worked with some people like Mark Zubek (Zedd Records) and Dan Konopka (OK Go) as on American Dream but also lots of new people like Leon Harrison from The Lazys and loads of background singers from all over the place (Philadelphia, San Francisco, Texas, Vancouver, Cape Breton, you name it) and you'll start to see announcements for releases in the coming weeks. 
We were accepted into the Hamilton Musician Development Program which has afforded us some top notch marketing assistance for this new album so that's been pretty great. Many thanks to Debbie Spence and everyone at the Hamilton Music & Film Office!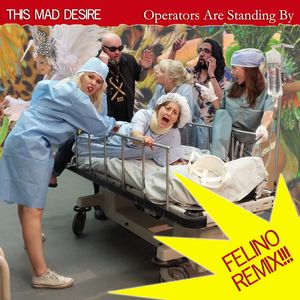 To that end, here are a few things you can look forward to: the next release (release date TBD) will be a remix of Operators Are Standing By from Felino, who is a producer based in Brazil. Also on the horizon is the Interlake All-Stars compilation vinyl celebrating artists with a connection to the Interlake region of Manitoba (I haven't heard official release date yet). 
On a different note, I have been doing a fair amount of song cowriting and music lessons online. I'm happy to work with anyone over Zoom. For example, I've written some songs with a friend in Calgary and I'm writing a reggae/Caribbean-sounding tune with new friends in New York City and San Diego. So if you'd like some help with your own songwriting or you want a guitar, piano, or voice lesson, just let me know and we can arrange a time that works! 
RANDOM NOTES 
Save Toronto Music Venues Compilation CD is now available. $10, 22 bands, and that warm feeling that you're doing something for a good cause! All proceeds go to various Toronto music venues. We have even contributed a track. Order at savetorontomusicvenues.com. 
Buttons, vinyl, and merch! All this plus t-shirts, neck gaiters, coffee cups, etc. are now available on our new store at our main site http://thismaddesire.net/store. And vinyl/digital music is available at thismaddesire.bandcamp.com. Purchasing music and merch is the greatest way to support artists especially as the live music world has been decimated in the past year. 
My (constant) plea: If you could take two seconds and FOLLOW This Mad Desire on Spotify, Apple Music, and Youtube, it would make a world of difference to me. In the modern music world, those metrics are important!! 
Culinary Saga of New Iceland – Maybe cooking is your thing! Check out our award-winning cookbook's Second Edition(!!) on Amazon! This is a book by my mother which I designed. 
Mermaids ...For Real!! - Check out this great book for pre-teens about mermaids and ocean conservation by my mother here and don't forget to follow on Facebook! We're actually currently working on the sequel which will be out this fall. 
Stay safe out there and Stand Up And Dream Again!! 
-Mackenzie Kristjon