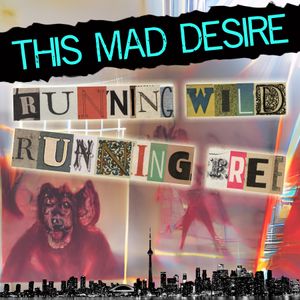 BE IN OUR NEXT VIDEO! WIN A FREE T-SHIRT!!
Deadline: EXTENDED TO JUNE 15
Received some SUPER COOL stuff so far...
Looking for videos of YOU Running Wild Running Free! You could be running wearing a crazy mask, winning a touchdown for your football team, running into freezing water, running on the street with your arms in the air like you just don't care, or anything else you think of! Maybe you have a toddler that looks wildly happy while running. The more creative, the more fun, the mo' better! Video preferred but awesome photos also accepted. Landscape AND portrait-orientation both accepted.
Don't do anything too dangerous unless you are a trained stunt professional. In any case, TMD accepts no liability nor responsibility for any injuries.
But definitely HAVE fun and share on TikTok and other socials any fun you might have. Use hashtags #thismaddesire and #runningwildrunningfree and tag @thismaddesire wherever you are. You can use the track Running Wild Running Free as the background sound too!
Each submission will be in the running for a FREE Running Wild Running T-shirt!
SEND SUBMISSIONS using dropbox, google drive, wetransfer, etc. to macsonfire@gmail.com with the Subject line Running Wild Running Free Video.
Go forth to RUNNING WILD RUNNING FREE!!!
By submitting you consent to the use of your media-content in any video This Mad Desire makes for Running Wild Running Free as well as for use in any associated social media and anywhere these might be distributed.