Friends! Family! Co-conspirators! 
So 2023 is officially up and running, and things are generally buzzing around here. We've got LOTS on the go here and I'll try to hip you to a few of our current projects and activities. 
We recently released Small Boat, our collaboration with The Noisy Brain mental health community app and it's still currently available on youtube, soundcloud, and for sale at our website (as well as T-shirts and Coffee Cups!). That's been an interesting process and I've heard from quite a few people who say they were quite moved by the whole concept and are interested in connecting further with The Noisy Brain, which is fabulous. You can read all about it and immerse yourself in everything Small Boat at THIS LINK. 
(Note I have still not met the poet who wrote the words but we've exchanged a few emails and it sounds like we will have a Zoom soon enough once we get our acts together and coordinate between all of our time zones.)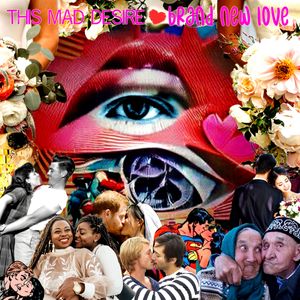 Also exciting is our annual Valentine-related song! Most years I've tried to put out something whether it was Paris of Love / Paris Amoureux or last year's Love Is A Glorious Thing. I went a little further on the concept this year and have been sending official Valentines to select people across North America to celebrate the first in our series of Secret Covers called Brand New Love. 
This track was originally recorded by Sebadoh on their landmark release Smash Your Head On The Punk Rock. I first started singing it pretty much when it was released in 1992, and I have to admit I've been having a lot of fun working up versions of some of my fave songs. The cover I made for this single is also an homage to Sebadoh as they always have made great use of collage –which I also love. Other songs in this series are from Warren Zevon, Black Sabbath and more! 
And I also opened it up to some actor and musician friends to say a few words about love in the song. I can't say everyone because some of this is meant as a surprise but definitely my friends Sandra Sutter, an award-winning indigenous musician and filmmaker from Calgary, Shareece Jones aka Darchaild from San Diego, Jen Culp from the Niagara region, and DJ Wright, an actor from Toronto. 
BRAND NEW LOVE will be out everywhere on February 10 so keep your eyes peeled. And again, if you want a Valentine, just send me your address. If I have any left, I'd be happy to send you one. 
SCREEN X SCREEN: This Indie Week-related conference is coming up February 7-9 and is a Music + Tech Online Conference. I think tickets are about $80 but I have a limited number of free passes so if you're someone who is in the Music Industry and want to attend, let me know. Again, first come first serve is the idea. What's cool about it being online is it is on the Whova app so you can watch sessions on demand afterwards for, I believe, 3 months and you are connected with hundreds of neat people in the industry that you can easily contact or network with.  http://screenxscreen.com 
And in the TMD Extended Universe… 
Congrats to Jessica Magoch on this great podcast interview! We've been blessed to work with her on a few songs on the Open Hearts Open Minds release as well as our Holiday Classics V1 and here she discusses working on her own upcoming album Trivial Pursuit. Check it out here: https://www.femalediymusician.com/gtkpodcast/episode/7b89cede/ep75-student-success-blowing-a-sync-execs-mind-with-jess-magoch 
Also you can find out more about her at http://jessicamagoch.com. 
Also, really great news for our buddy Da Fingaz. We're working on this really great track called Ready For The Weekend for my next album of original music (and if you want to participate in the song by reading a sentence into your phone or singing, let me know!) and we also just worked up some news broadcast music for TMD World Services, our fictional Fake News Agency (motto: the Truth We Imagine!). While we've been swirling up all this creativity, he found time to get a music placement on a theme attraction in Disneyland! That's a whole angle of music creation that had hitherto escaped my radar, so super congrats to Da Fingaz at our TMD Washington, DC, News Division. http://dafingaz.com 
I should also mention that this brings us up to two co-writers on the next album who have had recent Disney success as of course Cas Weinbren aka Caskeyboardproducer aka See See Beats had a couple of tunes in the recent Disney smash Zombies 3. So lots of Mickey Mouse action going on in the TMD Extended Universe!
And people we have worked with have been releasing music as well, like MJoy (who appeared in the Running Wild Running Free video) and I saw Andrew McPherson (producer of our albums Sweetness Machines and Celebration) has a new remix out for his Eccodek project. Typically what I try to do is include these songs in my TMD Listens Spotify Playlists which I publish  HERE so you can expect to hear those two tracks on upcoming playlists. 
That's it for now, folks. Again if you want a Valentine or want to participate in future music or just want to say hello, reach out! 
Operators Are Standing By! 
Mac 
Mackenzie Kristjon 
thismaddesire.net
SOCIALS AND STREAMING SERVICES: thismaddesire.net/smartlinks 
CUSTOM SONGS for Weddings and Special Occasions 
All things MERMAIDS …FOR REAL!! 
LIFE IS TOO SHORT. ENJOY IT.