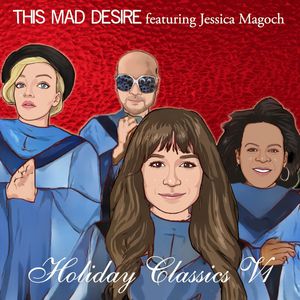 Holiday Classics V1 from This Mad Desire is available here and on our Bandcamp as well as all major streaming services.
(Hamilton, Canada) Even though we have just released Open Hearts Open Minds, our latest full-length, in October, we're also offering up our new Holiday Classics V1 EP now in November! It contains Deck The Halls, our Christmas single we released last year, as well as our brand new version of the Holiday Classic O Come All Ye Faithful and a truncated "Fanfare Edition" of This Christmas, an original which I wrote with Kim Thompson and which she released last year. Also there are some alternate versions  included. 
In 2021 when I was recording Open Hearts Open Minds (OHOM), I had invited pretty much anyone across Canada and the United States who wanted to sing background vocals to participate in that album as it was the pandemic and many people were looking for creative outlets during the various lockdowns. At an Indie Week-related festival (Indie 101), I met Jessica Magoch who sings on two tracks from OHOM. I loved her voice and asked her if she wanted to work on a version of Deck The Halls as well as This Christmas. 
I had asked her about doing another one and so we hit upon O Come All Ye Faithful. Whereas Deck The Halls had more of a lively rock arrangement with a glorious guitar solo from Steve Baric, O Come All Ye Faithful called out for a more traditional approach. The arrangement here starts very simple and gradually builds and builds until there are finally multiple singers at the end sounding very "joyful and triumphant". 
Singing background on the track is pop singer Carleen from Los Angeles. I have been working with her on some material that will come out in 2023. She's also a great writer and singer. And then there's Cheryle Dueck. She lives in the Toronto area and we were able to get together in person (what a novelty!) to record her impassioned voice. Her husband was also there and was really encouraging her to bring that Sister Act vibe to her performance. If Whoopi Goldberg is out there, I hope you enjoy this! 
-Mac 
GET THE OFFICIAL HOLIDAY CLASSICS V1 CHRISTMAS CANDLE!!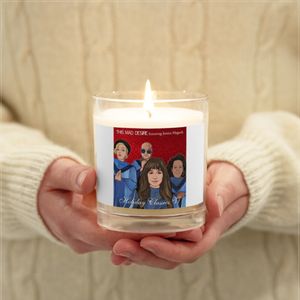 ---
HOLIDAY CLASSICS V1 PERSONNEL: 
MACKENZIE KRISTJON –Lead & Background Vocals, Keyboards, Guitars, Bass, Mixing, Production on all tracks 
JESSICA MAGOCH –Lead & Background Vocals on all tracks 
Jessica Magoch pours a glam cocktail of jazz, swing, hip-hop, and rap. Winner of the Philadelphia Music award for Jazz 2019 and top 20 Indie Songs of 2020 by CFAB Radio. Originally from Queens, NY, and currently in the Philadelphia area, Jessica is working on a new album, Trivial Pursuit, the title track for which won a John Lennon Songwriting Contest Song of the Week Award. http://jessicamagoch.com 
CARLEEN –Background Vocals on O Come All Ye Faithful
Carleen is a singer, pianist and songwriter based in Los Angeles. She was born in Utah, near the border of Arizona and lived on a farm in Idaho. She considers herself to be from all three states. Because she's from the Rockies, she likes to think of her music as rocky, too. It's rock-country or more precisely: alternative-folk-fusion. She is most often compared to artists like Joni Mitchell or Jewel. http://carleenmusic.com 
CHERYLE DUECK –Background Vocals on O Come All Ye Faithful 
Cheryle Dueck is a Toronto-based gospel singer and Founder of the Gospel Music Industry Hub (GMIHub), an organization dedicated to helping music artists have access to information and connections needed to go further in their music career journey. http://gmihub.ca and http://youtube.com/c/GMIHubOnline 
DAN KONOPKA –Drums on all tracks 
Dan Konopka is a drummer and mixing engineer based in Los Angeles, California. He is best known as the drummer in Grammy-winning OK Go and has become a frequent collaborator on This Mad Desire's recordings. Plus he's met Animal from the Muppets! Who knows? Perhaps next year we'll do Little Drummer Boy and get Animal and the Danimal to trade off on beats! 

  
STEVE BARIC –Lead guitar on Deck The Halls 
Steve Baric is a Canadian multi-instrumentalist and composer. Having studied classical and jazz piano, composition, and orchestration, as well as having grown up in the golden age of metal guitar, his approach to the creative process is eclectic to say the least. Steve also plays lead guitar on the title track to This Mad Desire's album American Dream. http://linktr.ee/woodsnstrings 
NATALIE WILLIAMS CALHOUN –Cello on This Christmas (Fanfare Edition) 
Natalie Williams Calhoun currently resides in Prince Edward Island and is a freelance professional cellist, performing with the Atlantic String Machine, the Prince Edward Island Symphony Orchestra, Symphony Nova Scotia, Symphony New Brunswick and the Charlottetown Festival Orchestra. Prior to living on PEI, Natalie worked with the National Ballet of Canada Orchestra, the Kitchener-Waterloo Symphony, Orchestra London Canada and the Brantford Symphony Orchestra. Ms. Williams Calhoun is on faculty at the University of Prince Edward Island (Applied Cello as well as String Techniques). Mac met Natalie at Indie 101 in 2022. 
TANNIS SLIMMON –Background Vocals on Deck The Halls 
Tannis Slimmon is known for her genuine warmth and rare vocal talent and has been a valued member of the folk music scene in Canada and Internationally for over 30 years. Mac met her when he was living in Guelph, Ontario. http://tannis.ca 
KARI LYN –Background Vocals on Deck The Halls 
Kari Lyn is a Toronto-based singer-songwriter/"cottage core rockstar" originally from Prince Edward Island. Her debut album was nominated for Top Rock Album at the 2020 PEI Music Awards. She has a new single out this November. http://karilynmusic.com 
KIM THOMPSON –Background Vocals on Deck The Halls 
Kim Thompson is a Calgary-based country singer whose single This Christmas was co-written by Mackenzie Kristjon and produced by Chris Birkett (Sinead O'Connor, Buffy Ste. Marie, etc.). She also provided background vocals on This Mad Desire's Open Hearts Open Minds album. http://kimthompson.ca 
LISTEN TO HOLIDAY CLASSICS V1 ON SOUNDCLOUD  
LISTEN TO ALL OTHER TMD TUNES ON ANY SERVICE 
ABOUT OPEN HEARTS OPEN MINDS 
Happy Holidaze!
Mac
P.S. Part of the 2023 plan is to get Mariah Carey involved singing background vocals. If any of you have her number, let me know. Operators Are Standing By!