Friends, Family, and Co-Conspirators!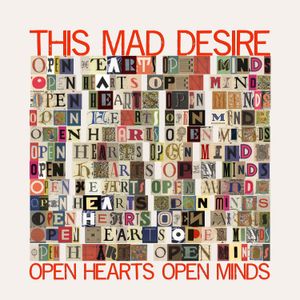 Happy Rocktober! Hope you're getting into pumpkin spice and everything nice this fall season. For the Canadians, we have Thanksgiving to look forward to and Halloween. And everyone in the world can look forward to…. OUR NEW ALBUM!!! That's right, True Believers, at long last, we are releasing our new album OPEN HEARTS OPEN MINDS on October 14.. 
There will be loads of interesting stories coming soon about the individual tracks but for now, suffice it to say that we are very proud of the tunage on the new opus. It includes collaborations with musicians across North America and Brazil and includes some people I have worked with before like Dan Konopka from OK Go and Mark Zubek as well as some new people who added fresh energy and vitality to my effort. We have a few remixes that will come out as well through the fall. 
For the most part, this was recorded during a month last year during the pandemic  A lot of energy and effort went into creating these songs so I'm really looking forward to hearing what you all will think! 
OPEN HEARTS OPEN MINDS SPOTIFY ALBUM PRE-SAVE: https://www.musicgateway.com/presave/open-hearts-open-minds 
Aside from this, we're also readying Christmas songs (TMD Christmas Classics V1 featuring Jessica Magoch), other new collaborations with cool artists across America (part of my TMD Team-Up Series –more on that later), a covers EP (Secret Covers V1), and another regular album. Plus!!! We are also making… 
VISUALIZERS!! 
Every week or so, I'll be uploading more Music Visualizers to our Youtube page. If you don't know what this means, it's basically a video with elements that pulsate or somehow interact with the music. While you're listening to our tunes, you can trip out to some psychedelic visuals or just have it on your screen in the background while you are entertaining or whatever. 
Here's a couple to check out: 
IN THE GARDEN (from the upcoming OPEN HEARTS OPEN MINDS release):  

ELECTED (from the AMERICAN DREAM release):
(Yes this is a cover of the Alice Cooper song. Not long after I released this, I was on a Zoom with Ryan Roxie -Alice's guitarist for the past 20 years- and he was excited to hear that Dan from OK Go was playing on the track because Roxie's a fan of theirs.) 
I'm really trying to get my Youtube subscriber numbers up so Please Please Please, head over to http://youtube.com/thismaddesire and click Subscribe! Youtube is the highest paying streaming opportunity available to independent musicians but it really only kicks in once I have enough subscribers, 
That's it for today! Let me know how you all are doing!!
-Mac