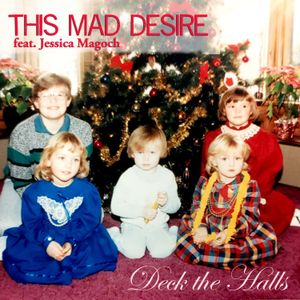 FA LA LA LA LA
Our modern holiday classic is NOW AVAILABLE to stream anywhere and watch! (And if you're so inclined, you can buy it at thismaddesire.net or thismaddesire.bandcamp.com.)
Recorded across North America in various locations across Canada and the United States, our version of Deck the Halls is a collaboration between Mackenzie Kristjon, vocalist Jessica Magoch (winner of the 2019 Philadelphia Live Music Award for Jazz), guitarist Steve Baric, and Dan Konopka (OK Go). Background vocals are provided by Guelph-based singer Tannis Slimmon, Kari Lyn (Toronto by way of Prince Edward Island), and Kim Thompson from Calgary.
Watch the video here: https://www.youtube.com/watch?v=NixmYpSFsIQ
---
Personnel: 
Jessica Magoch pours a glam cocktail of jazz, swing, hip-hop, and rap. Winner of the Philadelphia Music award for Jazz 2019 and top 20 Indie Songs of 2020 by CFAB Radio. Originally from Queens, NY, and currently in the Philadelphia area, Jessica is working on a new album. http://jessicamagoch.com
Steve Baric is a multi-instrumentalist/composer based in Ontario, Canada. Mac and Steve met in the previous century in high school back in Thunder Bay, Ontario. http://linktr.ee/woodsnstrings
Dan Konopka is a drummer and mixing engineer based in Los Angeles, California. He is best known as the drummer in Grammy-winning OK Go and has become a frequent collaborator on This Mad Desire's recordings. Plus he's met Animal from the Muppets! https://www.youtube.com/watch?v=rKSfMvvQ0f4&t=22s
Tannis Slimmon is known for her genuine warmth and rare vocal talent and has been a valued member of the folk music scene in Canada and Internationally for over 30 years. Mac met her when he was living in Guelph, Ontario. http://tannis.ca
Kari Lyn is a Toronto-based singer-songwriter from Prince Edward Island. Her latest album was nominated for Top Rock Album at the 2020 PEI Music Awards. http://karilynmusic.com
Kim Thompson is a Calgary-based country singer whose recent single This Christmas was co-written by Mackenzie Kristjon and produced by Chris Birkett (Sinead O'Connor, Buffy Ste. Marie, etc.). A few weeks ago, this was the number 5 most downloaded country song in Canada (and the only independent tune!). http://kimthompson.heanow.com
Like this recording, Christmas has no borders.
Happy holidaze! 
-THIS MAD DESIRE
LIFE IS TOO SHORT. ENJOY IT.