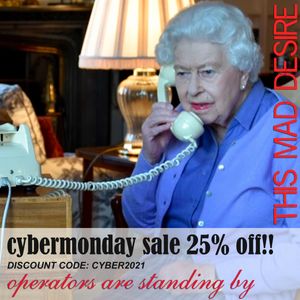 Happy Thanksgiving, America!! 
We have a SALE going on in our STORE for CyberMonday! (Starts Sunday)
Enjoy 25% off anything in the store with discount code CYBER2021 ! T-shirts, tote bags, sandals, coffee cups... Great gifts! Take a look around. Every purchase will also receive a special package with a grab bag of small stuff sent separately. And if you order now, you will receive everything before Christmas.
Operators Are Standing By!
P.S. Check out the new Operators Remix video (and other ones) at youtube.com/thismaddesire.
-THIS MAD DESIRE
LIFE IS TOO SHORT. ENJOY IT.