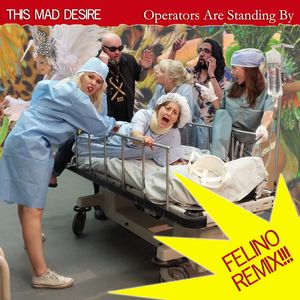 Very excited to announce the release of Operators Are Standing By (Felino Remix). Currently it is exclusively available at thismaddesire.bandcamp.com. (Streaming services will come later...)
In commemoration of this exciting event, we have also created special edition Operators Are Standing By T-shirts and Tote Bags which feature both the original artwork and the Remix artwork. You can check them out at our Store.
As you may be aware, Operators Are Standing By was the track which re-launched This Mad Desire. Originally produced by Mark Zubek (Zedd Records), it spawned a very fun music video directed by Simon Winterson of Digital Canaries Sets + Studios in Hamilton, Canada.
This remix is the first release that will be part of the forthcoming album Open Hearts Open Minds, which features exciting collaborations from across the planet, not the least of which is this remix. Felino is an artist and producer based in Curitiba, Brazil. He worked with Mag Ludi on the remix as well.
The song is about human connection so it's fitting that we've been reaching around the globe to make the world a little smaller. Operators Are Standing By!